Augment your reality
Ever since I became interested in technology, my passion has always been Augmented Reality, or AR. In a nutshell, AR is the integration of digital information and the user's environment in real time. Once I discovered this amazing concept, I looked everywhere to experience it for myself. However, most - if not all - major AR headsets in the market were largely inaccessible to the general public. This problem led me to create the Cardboard HoloLens, an inexpensive version of Microsoft's HoloLens. In time, I hope to create more advanced versions of this prototype and release it to the public!
Powered by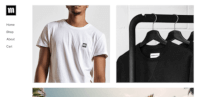 Create your own unique website with customizable templates.